Set On A Peaceful Hillside with Fantastic Views and So Close to All Catalina's Adventures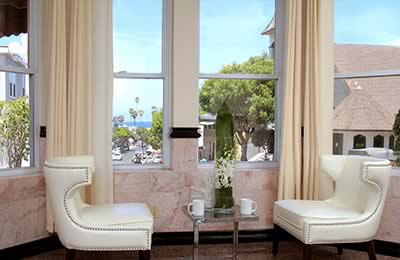 Catalina Island Hotel St. Lauren offers something for everyone visiting Avalon, CA. Accommodations at Hotel St. Lauren in Avalon, California are second to none, yet near the action in town and on the water. Our dedicated staff will help you locate the perfect island adventure. Want to experience the ocean? You can fish, swim, kayak, or rent a boat for the day just minutes from our doorstep. Want to relax and take in an ocean vista? Our balconies offer some of the best views of Avalon Bay and Catalina Island available, the perfect spot to share a glass of wine or relax with a good read. Call for ocean view rooms and balconies.
St. Lauren Hotel Catalina Reservation and Cancellation Policy
The Hotel St. Lauren is a prepaid hotel. Each reservation must be paid in full at the time of booking. Package dates may be changed, subject to availability, more than 14 days prior to arrival. All reservations for rooms and packages will be charged for the total amount at the time of booking. The total amount is refundable less a $25 cancellation fee for each reservation if you cancel, by phone only, more than 7 days before the arrival date (i.e. Friday arrival must cancel by the Friday before the arrival date). Seven (7) days or less before the arrival date, reservations are nonrefundable, non-cancellable and non-reschedulable (NO EXCEPTIONS). Reservations must be cancelled for the entire stay, there are no partial cancellations (i.e. for example the fourth and fifth day of a reservation must be cancelled 7 days prior to the arrival date). To cancel a reservation please call 1-800-645-2496. Reservations are for one room. Upon Check-in, a valid identification is required.
Check in time is between 3pm-10pm (Front Desk closes at 10pm)
Early Arrivals-self storage is available at the hotel, however there is a secure baggage storage at boat terminal in Avalon
Check out time is 11:00am
Sorry, no pets
Smoke-free hotel
No smoking on Hotel premises which include all balconies, patios and decks.
---
Cancellation Policy
Seven day cancellation policy. 7 days or less prior to the arrival date, reservations are non-refundable, non-cancellable and non-reschedulable (NO EXCEPTIONS). More than 7 days prior to arrival date, confirmed by hotel cancellation number, $25 cancellation fee.